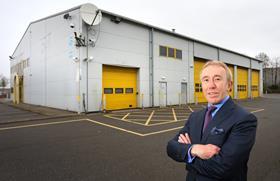 The north-east of England will soon be home to a new £3 million fresh produce hub for growers, traders and their customers.
The new facility, an investment spearheaded by John Holland of local wholesaler JR Holland, will operate in addition to the region's existing fresh produce wholesale market, the North East Wholesale Fruit and Vegetable Market, in Gateshead.
According to the wholesaler, an estimated 100,000 packages of produce are expected to be sold through the facility every week to retailers, restaurants, hospitals, caterers, schools, universities, and other businesses.
Holland said: "My dream is to create a one-stop fresh produce hub of the future. I want to bring the fresh produce community together under one roof where they can be inspired, where they can network and do business together.
"The fresh produce hub will be a tidy, clean and inspirational one-stop marketplace that will shorten supply chains, reduce food miles and ultimately drive forward our industry into a new era of growth.
"The specialist knowledge and customer and supplier relationships we have developed through 40 years in the sector are fundamental to the core of our business, and I want to build upon this to create a new go-to place for everybody's fresh produce needs."
All produce will be sourced direct from suppliers in the North East, with exotics from around the globe. The new market, which will operate seven days a week with extended opening hours, is expected to provide 60 year-round jobs.
The 25,000 sq ft facility is due to open its doors in early 2021 and will be based on the Team Valley business estate in Gateshead, occupying a renovated lorry depot on a two-acre site.
Simon Haggie of Knight Frank acquired the property on behalf of John Holland, and the buildingworks will be project-managed byIan Tew, also of Knight Frank.
The site will have product-specific multi-temperature-controlled zones, unrestricted vehicle access and parking facilities around its entire perimeter, and a covered customer collection point.
This story has been amended from a previous version that incorrectly stated the new hub would replace the existingNorth East Wholesale Fruit and Vegetable Market. FPJ apologises for any inconvenience caused.