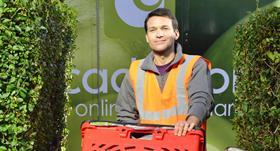 Online grocery retailer Ocado.com this week launched a major refresh of its own-range products, removing 27 tonnes of plastic.
The newly refreshed range, which became available to customers on Wednesday (17 March), includes new products, enhanced sustainability credentials, including 27 tonnes less plastic and the removal of 9 million non-essential packaging components, as well as new artwork.
'As the UK's most sustainable grocer, improving the green credentials of the own-range packaging was a high priority for Ocado,' Ocado.com said in a press release. 'Across the range, 27 tonnes less plastic packaging has been used, 640,000 plastic nets have been taken away and at least 9 million non-essential packaging components have been removed.
'Ocado is a founding member of the UK Plastics Pact – a group of businesses working together to create a circular economy for plastics to keep them out of the natural environment. As part of this, PVC, polystyrene and black plastics have been eliminated from all own-range packaging and it is Ocado's intention for all items to be 100 per cent recyclable and made from at least 30 per cent recycled materials by 2025,' the statement continued.
Laura Harricks, chief customer officer at Ocado Retail says:​ "It's so important to us that we are able to delight customers through our range, value and convenience but we also recognise the importance of ensuring that our impact on people, animals and the environment is positive and sustainable in the long term.
"We're delighted that the refreshed collection has given us the opportunity to improve the sustainability-credentials of our own-range packaging whilst maintaining high quality and great prices. We are proud of the steps forward we've made here – the bright, bold packaging is just the icing on the cake."
With over 625,000 active customers, Ocado.com is the world's largest dedicated online supermarket, according to the retailer.