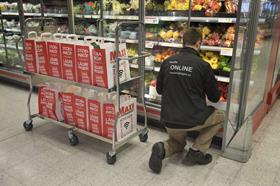 British online retailer Ocado has joined forces with Sweden's largest supermarket chain ICA as grocery retailers around the world try to keep pace with growing demands for convenience.
The agreement with Sweden's market leader is Ocado's third major deal in six months, following deals with France's Casino in November andCanadian retailer Sobey's in January.
The online business has been marketing its Ocado Smart Platform as a way for supermarkets to keep pace with rising competition in the online grocery market following AmazonFresh's expansion in Europe since 2016, with launches in the UK and Germany.
Despite this, some analysts think the company needs to partner with more retailers for the platform to justify its high stock market value, Reuters reported.
The exclusive agreement with ICA in Sweden saw Ocado's share value rise seven per cent on 2 May, with the supermarket boasting 1,300 stores and a market share of around 36 per cent in the country.
Ocado said the deal – which will optimise its existing online delivery service – will include website functionality, supported by its 'web shop' and grocery delivery apps; last-mile route management technology; and the construction of a state-of-the-art automated warehouse, complete with robots to quickly fill grocery orders.
Chief executive of ICA Sweden Anders Svensson said: 'We will benefit from the fact that Ocado are continuously developing the platform for themselves and other leading grocery retailers around the world.
"An automated ecommerce warehouse will enable us to offer customers a wider product range online and better deliveries, while at the same time streamlining ICA's logistics flows.'
The platform is set to be implemented by the end of 2020, and ICA's first customer fulfilment centre in Stockholm is expected to take around three years to complete. The two companies will consider building others elsewhere in the country in future.
Ocado announced that ICA would pay certain upfront fees for maintenance and access to technology when the deal was signed and during the development phase, followed by ongoing fees linked to sales and installed capacity.