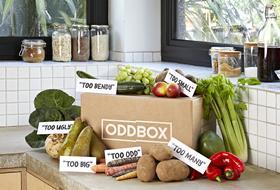 Oddbox, which rescues and delivers fruit and vegetables at risk of going to waste directly from farmers to consumers' front doors, has widened its delivery radius to include households in Edinburgh and Glasgow.
Since it began in London six years ago, the company is understood to have delivered over four million boxes of 'odd' ('too big', 'too ugly' or 'wrong colour') and 'surplus' produce to households in England and Wales.
On the expansion, Emilie Vanpoperinghe, co-Founder and CEO of Oddbox, said: 'Expanding Oddbox into Scotland means growing our community of people doing good for the planet – and having a greater collective impact in the fight against food waste. We're giving Edinburgh and Glasgow locals a tool to make a change seamlessly in their everyday lives.'
Oddbox delivers fresh fruit and vegetable boxes containing surplus and out-of-spec produce that is rescued directly from farms via a weekly subscription service.
The boxes also include tailored recipes and data measuring each customer's impact on the planet as a result of their purchase.