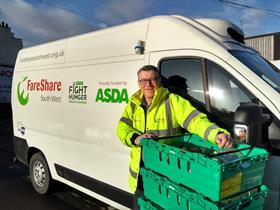 A single new van for food and fresh produce redistribution charity Fareshare, supplied by Asda, will help deliver an additional 265,000 meals each year.
FareShare South West, based in Bristol, diverts quality surplus food to more than 250 frontline community groups and charities in the South West of England.
The new van, along with a recently installed industrial chiller, will give the charity extra capacity to recruit up to 31 new local charities and community groups in the next year, according to FareShare.
FareShare estimates the additional food it provides to frontline organisations could reach up to 3,317 more people at risk of hunger.
"FareShare has been fighting hunger and food waste across the South West for over 11 years, and in that time our impact has grown significantly– we're now on average diverting more than seven tonnes of fresh surplus food to frontline charities each week. In the last 12 months alone we provided enough food to create over 1 million meals for people in need," said Julian Mines, CEO at FareShare South West.
"But we know there is a demand for more support, with many families living hand-to-mouth - which is why we welcome Asda's investment.
"If you would like to get involved and support, either by donating or volunteering, please get in touch. With the addition of this new van, we are especially looking for drivers and driver's mates to help us deliver food across Bristol and the South West."
Official statistics show thatmore than one in four children in Bristol are living in poverty with many families struggling on a daily basis to afford food. The need for FareShare's service has never been higher and the new van was therefore vital in order to meet the needs of the region's most vulnerable people.
Helen Mead, Asda's senior director for Bristolsaid: "By bringing FareShare and the Trussell Trust together and investing in their infrastructure and essential services, we can help thousands more vulnerable people in the South West and millions across the UK access good quality fresh food. Ultimately, our aim is to change the face of poverty in this country and make sure nobody goes hungry."