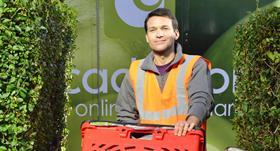 A surge in demand for online services due to the Covid-19 crisis is boosting business at Ocado.
The online grocer and tech business issued a trading update this week in which it revealed growth in retail revenue of 40.4 per cent in the second quarter to date, compared to last year. While shopping behaviour is starting to return to normal, the number of items per basket remains high.
Ocado said it is continuing to price match individual products against key competitors, with the proportion of sales on promotion initially falling to discourage stockpiling.
The company has ramped up capacity with fulfilment centres running at their peak and 'best-ever efficiencies', while the Ocado Zoom site in west London has now achieved its ultimate capacity a year ahead of expectation.
'We are facing quite a different challenge to many, as we scale up Ocado.com to play its part in feeding the nation, and as we help our clients launch and roll out their online businesses more rapidly against a backdrop of a likely long-term increase in demand for online,' said group chief executive Tim Steiner.
'Ocado remains in a strong position and while we should be grateful that our current challenges are around growth, expansion and increased demand, we have great empathy for all who are facing different challenges at this time. In retail, we are working with our small suppliers to make sure we pay them earlier than normal and we will work closely with any who are struggling.'
Through its Ocado Solutions division, the firm also said it has been supporting its partners to expand their online grocery capabilities, such as Morrisons using the Ocado platform for in-store fulfilment to allow it to significantly increase online store pick capacity.
The group estimated it has helped enable delivery of 40 per cent more grocies in the UK than before Covid-19.