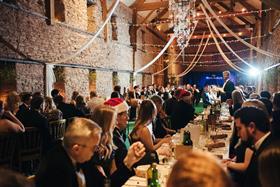 Over 100 NextGen members and supporters from across the country gathered in Hereford at the end of November for the NextGen Fruit Group's inaugural winter ball.
Keynote speaker and chairman of Haygrove, Angus Davison, addressed the audience at Lyde Arundel with the subject "Challenge the measurement of business", urging up-and-coming growers to focus on the environment and people alongside profitabilty.
The gala event featured food and drink from NextGen members, with catering provided by former NextGen committee member Hamish Light's Field 2 Fork Catering.
Drink was provided by English wineries Biddenden Vineyards, Halfpenny Green Wine Estate and also Thatchers Cider.
NextGen chairman Ben Bardsley said: "The Next Generation Ball was an excellent event attended by the brightest people in our industry raising funds for the newly formed NextGen Fruit Group."
Haygrove stated online: "Angus Davison, founder and Chairman of Haygrove, inspiring future fruit growers at the@nextgenfruitgroupWinter Ball. His message 'Challenge the measurement of 'business' not only to focus on profit but people and the planet too.
"In horticulture we are on the front line of working with nature and a full cross section of people so get it without question and should lead.' A fantastic night of youth, positivity and energy!"
The NextGen Fruit Group is the new appellation for the Under 40s Fruit Growers, with the group rebranding in June this year.
Chairman Ben Bardsley, said he aims to expand the group to have a more international base, as well the membership size to around 350.
The group announced its next biennial conference trip to New Zealand in 2021 following the success of its Chile visit in February this year.