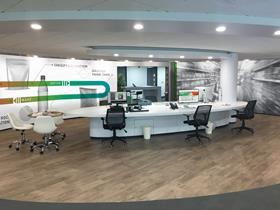 Americk Packaging has unveiled its new Innovation Centre with a multi-category creative space for customers to interact with technical, NPD and sales teams.
Based in Wigan, the new facility will be officially opened at a launch event held for retailers, brand owners and manufacturers.
Group retail director Josephine Morgan said: "Our customers will be able to interact with our sales and marketing, retail, technical and innovation teams in a creative and inspiring space. Encouraging visionary thinking, new product development and the ability to deliver fully printed sample mock-ups on any substrate all under one roof.
"The new Innovation Centre provides a hub for our customers to tap into this knowledge, targeting colour management, circular manufacturing processes, shelf-life extension through to market insight and consumer trends."
Americk Packaging, which was recently acquired by Saica Group, comprises six sites spread the UK and Ireland.