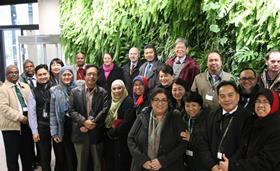 A delegation from Malaysia has visited Pershore College to meet with research teams, industry and education stakeholders and member of the Department of International Trade (DiT).
Visitors were given a tour of the new Agri-Tech Centre of Excellence recently opened by Worcestershire LEP, and a talk from commercial and horticulture manager John Farmer and Dr Alison Wakeham, a researcher on a number of pioneering research trials at the college.
In addition there was a tour of laboratories, hydroponic chamber and polytunnels at the college with the aim of developing new partnerships between British and Malaysian research and education institutions.
College director and vice principal for international development, Sharon Bell, said: "We currently work with partners internationally including Malaysia, so this visit was an excellent opportunity to show off our facilities first hand. We look forward to progressing our partnerships and discussing how we can benefit from collaborating with each other in the future."