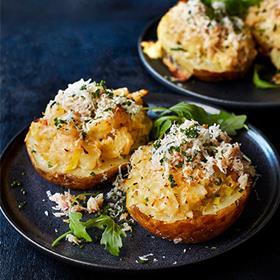 Waitrose has hailed the 'return of the spud' after interest in the humble potato soared over the past year.
The supermarket said searches on Waitrose.com for 'jacket potato' and 'baked potato' rose by 436 and 313 per cent respectively as home workers embraced the jacket as their go-to lunch. But while some are choosing to keep the classic spud simple, several social media users and chefs have been giving the baked potato gourmet makeovers to elevate their lunch, offering potato sales a further boost.
Waitrose said that 'pimping your potato' is a growing trend that is seeing traction across social media. There have been over 490,000 uses of the hashtag #bakedpotato, as people share a wide variety of jacket potato toppings and new creations.
The retailer reported an increase in views of recipes such as 'Twice-baked potatoes with crab and gruyere' (+26.7 per cent), 'Twice baked sweet potatoes stuffed with spiced chickpeas' (+38 per cent), 'Baked potatoes with pickle and herb tuna mayo' (+33 per cent), and 'Kale and caramelised onion jackets' (+45 per cent).
Celebrity chefs are also showcasing the spud in gourmet versions of the traditional potato dish, from Nigella Lawson's baked sweet potato with garlic and parsley sauce to Clare Smyth, who has included a seaweed and fish roe baked potato on her Core by Clare Smyth restaurant menu.
Leah Hyslop, deputy editor of Waitrose Food Magazine, said: "For many of us the baked potato is the ultimate simple comfort food, but it's also a brilliant blank canvas for exciting and innovative flavours. Whether you choose to keep it classic with baked beans and a mountain of cheese, or go gourmet with an array of toppings, the humble spud certainly remains a favourite with our shoppers. With more of us working from home, and taking breaks away from our desks by spending time in our kitchens, we expect jacket potatoes to only grow in popularity as we look to create delicious dishes using simple, quality ingredients we already have at home."