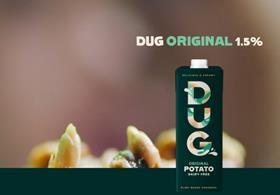 Potato milk is the latest plant-based product to hit retail shelves in recent days and has been tipped by UK supermarket Waitrose to become a bestseller this year.
Dug, a potato milk brand owned by Sweden's Veg of Lund, made its debut in Waitrose stores last week (7 February), with the supermarket chain predicting in its 2021-22 annual food and drink report that potato milk will "dominate coffee shop menus" in 2022.
Waitrose said it is expecting potato milk to compete with popular dairy alternatives oat, soy and almond.
"Products, flavours and trends we can expect to see more of in 2022 include potato milk, umami and climatarianism (a diet focused on reducing your carbon footprint)," Waitrose said in its food and drink report.
One in three Britons drank plant-based milks in 2020 due to environmental and health-based considerations, according to Mintel, turning alt-milk into a £400m-a-year market in 2021.
Dug, whose potato milk recipe contains pea protein and rapeseed oil as well as potato, says its brand's carbon footprint is significantly lower than dairy milk, and that growing potatoes is twice as efficient as oats and uses less water than almonds.
Dug potato milk is a patented emulsion of potatoes and rapeseed oil developed by Professor Eva Tornberg at Lund University in Sweden. The Dug brand is owned by Sweden's Veg of Lund.
Dug potato milk is also available on Amazon and Ocado UK retail sites.