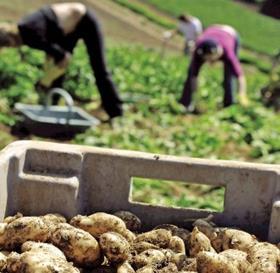 The UK is staring off the edge of a cliff with Brexit in terms of potato exports to the European Union. As of 11pm GMT on 31 December 2020, the UK becomes a 'third country'. And this third-country status means– deal or no deal – British potatoes can no longer access the EU. The market disappears overnight.
That is the agonising reality facing the UK potato export industry, says British Potato Trade Association (BPTA) president Sandy McGowan. It is a sector that last year (2019-20) sold around £50m of potatoes, and £49m of seed exports, to European countries, according to AHDB figures.
The Brexit trade situation for potatoes is very different from other seed or agri-products, McGowan – who also manages leading UK seed potato exporter Cygnet Pep – explains, due to a special clause within European Commission (EC) rules under which seed and ware potato supply falls.
Therefore, irrespective of whether the UK negotiates a free trade deal with Europe before the Brexit deadline, Britain needs to be granted what is called 'third country equivalence' to re-access this market.
"Without third country equivalence, there is no market into the EU," McGowan says simply. "It goes overnight."
Although third country equivalence was applied for by Defra and the application received by the EC back in 2016, the EC standing commission for plant health has not yet discussed, nor tabled discussions about this application, at any of its meetings, McGowan says, speaking on 3 November – less than two months before the UK leaves the EU.
"We have pushed as BPTA, we have pushed as Cygnet Pep, we have pushed as the representative of our many European customers, to have the ratification process at least acknowledged and started. But, as yet, nothing has happened.
"We cannot continue to trade unless a deal is pulled out of the hat," he continues.
"We don't actually know if they are going to look at it once the Brexit transition period ends in January 2021. But we have to assume that once Brexit is complete, it will get looked at. Unfortunately, even then, we don't know how long that will take.
"It feels a bit like seed and ware potatoes are being used as political pawns within the wider Brexit discussion."
This trade uncertainty leaves UK potato exporters little choice but to load and ship their entire EU-destined 2020 volume to their European customers before the end of December, which is in itself poses potential logistical and financial problems.
"This brings up multiple issues in terms of risk versus reward," says McGowan. "Cygnet Pep alone will need 200 trucks before Christmas [to get its potatoes to Europe]."
Other produce exporters, as well as potato shippers, will also be looking to beat the Brexit clock in December, he explains, raising concerns how this demand for transport can be met.
"Normally we'd [Cygnet Pep] deliver into multiple EU countries until May," McGowan continues. "So now the seed potatoes [arriving in Europe late-December] will have to go into long-term cold storage, which not only has a cost implication, but presents the risk of quality deterioration."
As for planting for the 2021 season, the industry is currently paralysed. "It's risky. We are going to have to have long discussions as a sector before we plant in 2021," he says. "The key is getting third country equivalence."