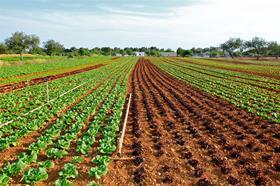 Prisoners have been suggested as a solution to the post-Brexit labour shortage in a new government strategy.
Outlining the government's strategy to prevent reoffending, justice secretary David Gauke named horticulture/agriculture as one of five priority sectors as destinations for the rising prison population. Retail, catering/hospitality, construction and manufacturing are the others.
The Education and Employment Strategy aims to boost prisoners' skills while in custody and improve their chances of securing work on release. It says the priority sectors 'present 'win-win' opportunities to fill skills gaps and labour shortages for employers, whilst finding sustainable employment for ex-prisoners.'
Horticulture and the other four sectors were targeted as they were deemed most likely to be disposed towards working with prisons, and the government says it will look to build relationships with trade unions and workers' guilds in those areas.
The government will launch a New Futures Network (NFN) to engage with employers and encourage them to take on prisoners, with experts placed in every geographical prison group.
'Workplace ROTL (Release On Temporary Licence) will be an important tool for building 'win-win' partnerships with employers in priority sectors such as catering, construction and agriculture/horticulture,' the strategy states. 'For prisoners, workplace ROTL is a chance to develop their skills, boost their CV and make an impression on potential employers. As such, it is a key tool for prisoner rehabilitation. For employers, these placements provide an opportunity to evaluate the skills and work ethic of the prisoners involved. When successful, this can help fill skills gaps, or labour shortages in the short-term, while developing potential employees in the longer term.'
The document explains that prisoners will be placed in areas where they have already gained some knowledge in their prison work. Currently commercial horticulture work takes place in over 30 prisons across the country, with core work including the production of salad crops using polythene tunnels or greenhouses, vegetables in open ground, annual bedding plants or nursery stock production.
The plans, however, have not been universally well received, with NFU Horticulture & Potatoes Board chairman Ali Capper calling them "a distraction". "The sector needs access to large volumes of non-EU seasonal workers who can live on farm and offer growers the flexibility they need to deal with whatever the weather presents each day, growing and harvesting crops to match supermarket orders," she said.
And food industry expert Professor Tim Lang also gave them short shrift on Twitter.
The proposals come as the horticulture sector continues to wait for a government decision over the re-introduction of a Seasonal Agricultural Workers Scheme.