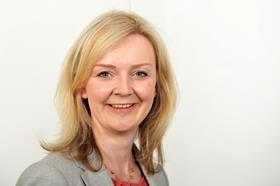 The fresh produce sector will be represented within the UK's trade negotiations after Liz Truss launched 11 new trade advisory groups.
The international trade secretary launched the groups as part of a new business engagement drive designed to support negotiations, which are currently taking place with Japan, the US, Australia and New Zealand.
Agri-food is one of the 11 sectors represented, and members include G's Global founder John Shropshire, AHDB international director Phil Hadley and NFU head of trade Nick von Westenholz, among others.
The experts' advice will be used to help inform the government's negotiating position and deliver key industry asks that benefit the whole UK, including securing new market access and agreeing cutting-edge digital trade rules.
Truss said: "This is about bringing business closer to the negotiating table and using their expertise to help secure the best possible deals that deliver jobs and growth across Britain. Talks with Japan, the US, Australia and New Zealand are entering their crucial latter stages, so it is only right that we step up engagement with vital industries to utilise their technical and strategic expertise.
"I want business in Britain to feel engaged and informed about the work we're doing to build an independent trade policy and how it impacts them. As we recover from coronavirus we want to strike deals that benefit every part of the country so we can build back better and deliver a fairer country for all."