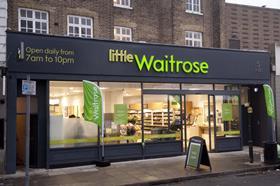 John Lewis Partnership has promised to invest more in both its customers and staff over the next five years after posting a significant drop in profitability.
The group, which operates the Waitrose and John Lewis retailers, announced revenue of £11.5 billion for 2019/20, a 1.5 per cent decline on the year before. Pre-tax profits took a much bigger hit, falling 23.1 per cent to £123 million, representing the third consecutive year of declining profits across the group.
The company said the result was below expectations and was driven by significantly reduced profitability in John Lewis, though results at Waitrose were described as 'solid'.
John Lewis's operating profits tumbled £75m to £40m, while at Waitrose they rose £10m to £123m. However, profits actually fell £6m at Waitrose once property profits of £16m were excluded.
New chairman Sharon White said the partnership is launching a strategic review that will focus on strengthening its core retail business as well as developing new services outside of retail. 'As part of this we will also look at 'right sizing' our store estate across both brands, through a combination of new formats and new locations; repurposing and space reductions of existing stores; and closures, where necessary,' she wrote in a letter to partners.
She stressed that the group would continue to be an employee-owned partnership, would retain its two key brands, put exceptional customer service at the heart of what it does, focus on quality and value with more local products and services, and put even greater emphasis on sustainability.
The strategic review is expected to be completed by the autumn, and White said it was essential to reverse the profit decline in order to invest more in both customers and partners.
For the coming months, White concluded: 'We are confident that our new products and services and focus on outstanding customer service will reinforce the strength of our brands. We are planning for the market to remain volatile, but expect continued cash generation, allowing us to further strengthen our balance sheet and maintain our level of investment.'