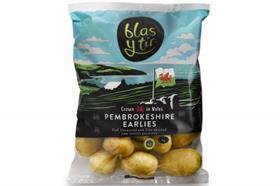 Welsh fresh produce supplier Puffin Produce has teamed up with Llanelli rugby team The Scarlets to donate potatoes for coronavirus care packages.
The supplier has offered for one tonne of its Blas y Tir branded Pembrokeshire Earlies to be included in care packages of essential products for vulnerable members of society.
The next batch of 500 care packages will be delivered by The Scarlets Community Foundation next week and each will include a 2kg bag of potatoes courtesy of Puffin Produce.
In partnership with the food wholesaler Castell Howell, the care packs will be delivered to 40 local grassroots rugby clubs in the Scarlets region of Carmarthenshire, Pembrokeshire and Ceredigion. Volunteers at each club will then distribute the packages to vulnerable people in their area.
Scarlets Community Foundation manager Caroline Newman said: "We are so grateful to Blas y Tir for the donations of produce to add to the food packs we are delivering next week. It's great to see people coming together to support those in need during these challenging times. Thank you for helping us make this work."
Huw Thomas, managing director at Puffin Produce added: "We are proud to be able to support such a fantastic initiative.
"It really does highlight how important local community is in Wales and I am pleased that the most vulnerable at this time will still have access to essential everyday items, including our Pembrokeshire Potatoes."