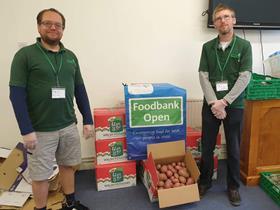 Welsh fresh produce supplier Puffin Produce has been doing its bit to help local people in need during the coronavirus pandemic.
The company, which is based near Haverfordwest in Pembrokeshire, announced that it has made three large donations of its potatoes to the Pembrokeshire Foodbank.
The service provides nutritionally balanced emergency food and support to local people in Pembrokeshire who are referred to them in crisis. They have five centres in the area – in Haverfordwest, Pembroke Dock, Fishguard, Neyland and Narberth – staffed by dedicated volunteers.
The Blas y Tir potatoes were collected from Puffin Produce's site in Haverfordwest by British Gas volunteers and the potatoes were put towards the provision of food parcels at the five centres for those in need during the Covid-19 crisis.
Theri Bailey who manages Pembrokeshire Foodbank said she was "so grateful to Puffin for their extremely generous donations of potatoes to support our clients."
She added: "The potatoes have been sent out to our network of five centres. The centre supervisors shared out the potatoes to people who are in food poverty. Unfortunately, this Covid-19 crisis has made things far worse for individuals and families, so we are getting many more referrals of those in need of food aid."
Puffin Produce MD Huw Thomas said the company was "delighted to be able to help", allowing those that use the food bank 'to enjoy some fresh, Welsh produce."
The Pembrokeshire Foodbank is part of a nationwide network of food banks, supported by the Trussell Trust, working to combat poverty and hunger across the UK.