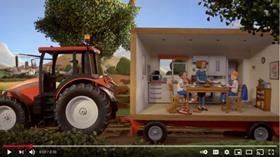 Red Tractor has launched a new TV advertising campaign promoting British produce and farming standards to shoppers, to be aired during the UK's most popular shows.
The eight-week campaign will feature an animated TV advert showing a mother shopping for her family as she learns about the standards behind British farming including the fresh produce sector.
The advert will appear during popular UK shows including The Chase, Coronation Street and Gogglebox, and Red Tractor hopes it will reach 45 million consumers before the May Bank Holiday weekend - a 20 per cent increase in viewers compared to its 2020 campaign.
"Red Tractor is already the most trusted assurance scheme in the UK, with 76 per cent of shoppers aware of the logo, seeing it as an independent source they can trust – that's equivalent to 15.5m shoppers," said Red Tractor chief executive officer, Jim Moseley.
"We want to keep growing recognition and understanding of the scheme and the logo, and so the campaign will cover as many of Red Tractor's sectors as possible, demonstrating how we cover a vast array of products found in shops."
He said the new advert follows a previous two-year TV campaign which resulted in recognition of the Red Tractor scheme among UK shoppers increasing to 76 per cent from 65 per cent before.
The 30-second advert follows a 'mainstream mum' shopping for her family and 'discovering the values that underpin the Red Tractor logo'. The animation tracks her journey from supermarket to farms and back again to learn how Red Tractor's standards are met across a range of sectors including dairy and fresh produce.
"Our farmers take enormous pride in the food they grow and rear to feed us, so it was important that this care was replicated in the production of this advert," said Red Tractor's head of marketing Richard Cattell.
"Our previous campaign really chimed with consumers, so we're excited to bring back some of the characters and visual charm, and hope that we can make supermarket navigation for those shoppers who are looking for food that is safe, traceable and farmed with care, that bit easier."