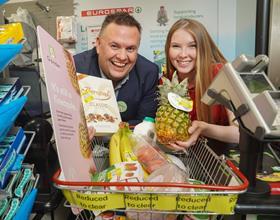 A real-time mobile app, developed to help retailers clear significantly more of its reduced-to-clear fresh food, has launched in the UK.
Claiming an industry first, Gander,a mobile platform that displays 'reduced-to-clear' food products, has partnered with Henderson Technology to bring the sustainable technology solution to partner UK stores.
Gander, which is available as an app via Apple or Android, displays reduced-to-clear food automatically and in real-time, with Henderson Technology's EDGEPoS system pushing the reduced food products to the mobile app as they are stickered in-store.
Similarly, when that item is sold it is automatically removed from the app, providing an instant feed of all reductions in-store at any time.
Gander founder Ashley Osborne said: "We are delighted to be partnering with Henderson Technology to introduce this new technology to market in an industry first. Together through this partnership, we can take significant strides towards giving retailers and shoppers alike the ability to have a more sustainable and mindful approach to food shopping.
"Environmentally, food waste is a crisis and is one of today's growing issues and it is forecast to increase substantially by 2030 unless serious action is taken. Worse yet, asignificant proportion of this waste is completely avoidable. However,for retailers reduced food can cost them up to seven per cent of their turnover.
'At a time when margins are being squeezed, this is revenue sitting on their shelves and that shoppers locally would love to buy, they just don't know it is there."