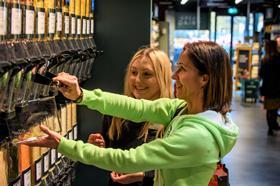 M&S research has revealed that refillable products can promote greater consumption, as consumers take advantage of less packaging.
The supermarket's figures show over 75 per cent of consumers are trying to reduce their use of packing, with one in nearly four shoppers now actively seeking refillable product ranges.
Since the trial launched at the M&S Hedge End store two months ago, 25 out of the 44 Fill Your Own products are now selling higher volumes than the packaged alternatives.
The stats bode well for fresh produce, as refillable frozen fruit and veg is currently being trialled by Waitrose at several stores, with national health guidelines of five portions of fruit and veg per day not being achieved by most people.
Paul Willgoss, director of food technology at M&S, said: "Our Fill Your Own concept is one area we're focusing on as part of our action to reduce plastic packaging and support our customers to reuse and recycle.
"As a completely new way of shopping, we're keen to better understand refill across the entire store process from behind the scenes operations to working together with our customers to encourage behaviour change."
Despite a perception by people surveyed that refillable products are more expensive, the M&S products actually offer better value per gram than packaged alternatives.
M&S research also found that just one in five people found that the need to carry their own containers was a barrier to the refillable products. Sales of M&S reusable storage containers have increased by 38 per cent since the launch of the trial however.
Kayleigh Doran, who is a colleague at M&S Hedge End, has been supporting customers at the Fill Your Own station since it launched and has highlighted some key customer insights:
·Family fun:We're seeing lots of families coming into the store to try our Fill Your Own station and kids particularly enjoy helping their parents fill their containers as a fun activity during the shopping trip.
·Returning customers:Since the trial launched, we're seeing more and more customers returning to use Fill Your Own and it's not unusual for them to visit us daily. Our customers are so passionate about our trial that they're spreading the word with friends and family and visits are increasing week by week.
·Portion flexibility:What's great about Fill Your Own is it offers the flexibility to suit specific needs. For example, customers who live on their own tell us it's particularly helpful to be able to buy individual portions for meals, whilst busy parents like that they can buy specific amounts of products like lentils or rice for recipes – all while knowing it's cheaper than our packaged versions. Some of our younger or more health-conscious customers also enjoy being able to buy a handful of chocolates to avoid the temptation of eating bigger packs.
·Trying new products:The trial is encouraging customers to try new products and find their firm favourites by sampling different flavours at home, such as dried fruits or cereals, which is particularly helpful for family households with varying preferences. With our coffee sampling station next to Fill Your Own, it's no surprise that every coffee flavour is currently outselling our packaged alternatives.
·Behaviour change:At the beginning of the trial, most customers used our free, recyclable paper bags for their refill products. However, as the weeks go by, we're seeing more and more customers adapting to bringing in their own containers or purchasing the ones we have on offer. It's a gradual change that requires a new way of thinking, but it's clear that it's starting to catch on.