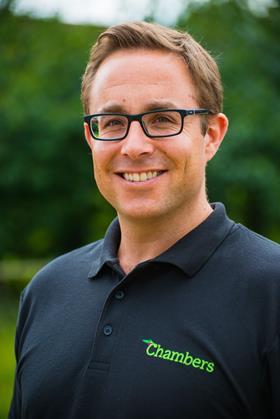 Much has been made of the berry sales boom in recent years, but some of the more niche soft fruits like redcurrants have not had such an easy time of it. Starting from an already low base, demand for the sour, red fruit has been in decline for a number of years now, with revenues falling by 10-15 per cent a year, and several supermarkets choosing to delist the product. This trend is looking like it will continue unless something is done to promote redcurrants' health benefits and versatility, but one of the UK's leading producers, Chambers, knows this won't be easy.
"We're really doing our best to keep these British products on the shelf, but we're in danger of some of them being completely delisted," he says. "They're becoming smaller as everyone tries to streamline their ranges and, before we know it, they just won't be on the shelves anymore. I think that's a real shame for currant growers across the country."
Chambers grows 75 tonnes of redcurrants a year at its farms near Maidstone for retail and foodservice, using advanced storage techniques to extend the season if growing conditions allow. The grower now only supplies Sainsbury's with fresh redcurrants since both Asda and Aldi have ditched the product, and Miller complains that when retailers do stock them, they place them in the top corners of their shelves, so shoppers often can't reach or don't see them.
"We need to educate customers on how to prepare and eat redcurrants," he says. "It's quite a versatile product – you can cook with it, use it in sauces or serve it with meat, particularly meat that's heavily flavoured like lamb. Puddings are a great one too, both as a decoration or filling. And it adds a really clean, sharp taste to breakfasts and smoothies."
Promoting the fruit as a rich source of vitamin C will be key to boosting sales, Miller believes, since one cup of the fruit contains 77 per cent of your RDA of the vitamin. Redcurrants also have health benefits for your skin, immune system, heart, bones and blood sugar levels. And Miller says they "could certainly be classed as a superfood".
Despite the fact that consumers tend to be looking for sweeter fruits, Miller thinks there is room in the market for more niche berries like redcurrants, blackcurrants and gooseberries. In Scandinavia, as well as Germany, Poland and France, there is strong demand for redcurrants, and Miller can't understand why the same isn't true in the UK.
"You could say the Nordic countries plus Germany and Poland have a colder climate and have grown up with redcurrants as a natural berry in their region, but at Rungis too there's always a plethora of currants being offered. It can't just be for decoration on patisserie – there's much larger consumption – so I'm a bit puzzled why they're so much less popular in the UK."
To date, Chambers hasn't exported any of its redcurrants, but as demand falls in the UK, Miller says the company is considering exports to the Netherlands, Germany and France this year. "We've already had conversations with companies that serve retailers and other grower groups over there," he says.
Whereas, in the UK, redcurrants are generally sold in 150g heat-sealed punnets, on the continent they tend to be retailed in open-topped cardboard punnets. This more sustainable solution is arguably preferable, particularly given the push from retailers and consumers to cut out single-use plastics. However, Miller says there is an understandable reticence in the UK to move to what many would term 'loose' produce.
In the soft-fruit category, a major focus for the company will be to increase demand among younger consumers, given that the under-28s account for just three per cent of total berry consumption in the UK, according to Kantar. "This is a problem for growers, retailers and the nation," Miller says. While they only account for a tiny part of the overall picture, Britain's redcurrant growers will be hoping they can help reverse this trend