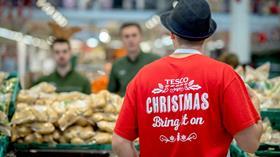 Political uncertainty and a cool, wet autumn have held back grocery sales in the last quarter, new figures from Kantar show.
The market analyst found that year-on-year supermarket sales rose one per cent over the past 12 weeks, an increase that is slightly behind the equivalent rate last month.
Seasonal events and promotions are key to this time of year as supermarkets look to boost growth figures, explained Kantar head of retail and consumer insight Fraser McKevitt. "The final quarter of the year is associated with holidays and festivities, and retailers are always looking for ways to capitalise on seasonal events to attract shoppers," he said.
"This year pumpkin sales were up by six per cent in October as the public geared up for Halloween – with more than a tenth of British households taking one home.In the past decade pumpkin sales have increased by 62 per cent – a telling barometer of how retailers have found success by increasing focus on seasonal spend."
Consumers are already in Christmas shopping mode, with strong sales of mince pies and Christmas puddings, and although fresh produce is much more likely to be sold closer to the big day, there is optimism for a strong sales period. Kantar estimates the average household will spend more than £380 on groceries in December, with a total of £11 billion being splashed out.
Among the retailers, the Co-op has had a good quarter. The convenience chain has grown continuously since May 2018 and sales increased again this period with year-on-year growth currently standing at 4.4 per cent. In the past 12 weeks fruit and vegetables proved particularly popular, with fresh produce sales increasing by 10 per cent.
Lidl recently announced its intention to open over 200 new stores in the next three years and was the fastest-growing bricks and mortar retailer this period with sales up by 8.8 per cent.
Slowing growth in the overall market meant the four largest retailers struggled to make gains, according to Kantar. Sales at Asda and Morrisons fell by 1.2 per cent and 1.7 per cent respectively, while Sainsbury's and Tesco proved slightly more resilient.
Online specialist Ocado was again the fastest-growing grocer overall, with sales up by 13.5 per cent compared to a year ago.