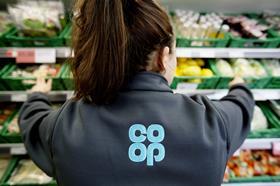 UK retail chains Waitrose and Co-op have launched a raft of price cuts in the run-up to Christmas in recognition of tough economic times for consumers.
Waitrose announced it is cutting prices on 200 of its most popular own-label products, while the Co-op has cut prices on 300 products and is set to introduce a new value own-brand range as the coronavirus pandemic continues to wreak havoc on the British economy.
Co-op, which has recorded strong sales growth since the crisis in March, said this was a £50m investment at a time when "value is uppermost in the minds of shoppers".
The Co-op price cuts take effect today (21 October) covering both branded and own-label lines across its 2,600 stores. It said the average basket will be reduced by 15 per cent across the 300 lines, which include fruit and vegetables, fresh meat, rice, pasta, coffee and toilet roll.
"This is a multimillion-pound investment to lower prices across 300 products and launch our new value range," said Co-op food CEO Jo Whitfield. "Offering good, honest prices and fairly sourced products is important to help shoppers balance their budgets."
In the run-up to Christmas and beyond, many people in the UK are facing tough economic times, said Waitrose's executive director James Bailey.
'This year has been incredibly challenging for consumers and we know times are tough for many, so we're reducing prices to provide our customers with great value on the items they buy most.
'Despite offering lower prices, we're maintaining the quality, high welfare and ethical sourcing that we're renowned for, so shoppers can spend less without compromising on what they value.'
The price cuts follow similar moves by the main UK supermarkets Tesco, Asda, Sainsbury's and Morrisons.
Enjoyed this free article from Fresh Produce Journal and its team of editors? Don't miss out on even more in-depth analysis, plus all the latest news from the fresh produce business. Subscribe now to theFresh Produce Journal.