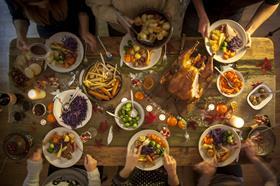 December 2020 was the busiest month ever for British supermarkets as tightening coronavirus restrictions funnelled shoppers away from eating out.
New figures from Kantar show take-home grocery sales rose by 11.4 per cent during the 12 weeks to 27 December 2020, a period spanning both the November national lockdown and Christmas. December was the busiest month ever for British supermarkets, with shoppers spending £11.7 billion on take-home groceries in the past four weeks alone.
Fraser McKevitt, head of retail and consumer insight at Kantar, said: "December is always an incredibly busy time for supermarkets, but take-home grocery shopping is usually supplemented by celebrations in restaurants, pubs and bars – with £4bn spent on food and drink, excluding alcohol, out of the home during the normal festive month. This year, almost all those meals were eaten at home and retailers stepped up monumentally to meet the surge in demand."
The government's announcement of tighter restrictions across much of the country coincided with freight delays at Dover and ongoing Brexit trade deal negotiations in the final days before Christmas. "Uncertainty around a deal and images of lorries sat at Dover meant consumers shopped earlier than usual and Monday 21 December was the busiest shopping day of the year,' McKevitt explained, with 15m households - more than half the entire population - visiting a grocer at some point that day and spending a collective £819m.
While spend on large items like whole birds fell, Brussels sprout sales were up 11 per cent to £10m.
Digital orders accounted for 12.6 per cent of grocery spend during December, compared with only 7.4 per cent last year. With sales over the past 12 weeks rising by 36.5 per cent, online specialist Ocado finished the year as it started, as the UK's fastest-growing retailer.
Fruit and veg boosts Iceland
Rounding out a year of strong performance for frozen food, Iceland achieved growth of 20.8 per cent. While the freezer aisles account for 39 per cent of Iceland's sales, its performance has been bolstered by other parts of the store like fresh fruit, vegetables and confectionery.
Tesco sales rose by 11.1 per cent over the period, driven by the continued success of its premium Tesco Finest brand, which found its way into more than a quarter of shopping baskets during the 12 weeks. Meanwhile, sales at Sainsbury's increased by 10.7 per cent year on year and at Asda by 7.8 per cent, with shares standing at 15.9 and 14.3 per cent respectively.
Sales at Morrisons increased by 13.1 per cent compared with the same time last year as its market share moved up by 0.1 percentage points to 10.4 per cent, its highest level since June 2019.
Off the back of its recent voucher scheme, which encouraged shoppers to spend more than £40, sales at Lidl increased by 15.2 per cent and it gained 0.2 percentage points of market share. Waitrose's share remained flat at 5 per cent, while total sales rose by 11.7 per cent. Co-op sales were up by 9.8 per cent and Aldi by 6.3 per cent.