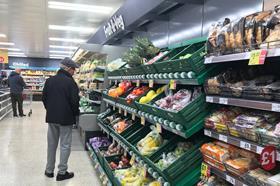 Britain's top supermarkets are meeting with Michael Gove following claims by the Brexit minister that there would be no shortages following a no-deal Brexit.
The meetings were scheduled after some chief executives demanded to meet the prime minister, according to BBC economics editor Faisal Islam.
Islam said retail chiefs were describing the meeting as "clear-the-air" talks with the government, over anticipated disruptions to food imports.
As the Chancellor of the Duchy of Lancaster, tasked with no-deal preparations, Gove appeared on the Andrew Marr Show earlier this month as the government launches its 'Get ready for Brexit' campaign, to encourage British businesses and households to prepare for the October 31 departure date.
He told Marr that "everyone will have the food they need," and "there will be no shortages of fresh food".
The British Retail Consortium quickly hit back, when a spokesperson said: "It is categorically untrue that the supply of fresh food will be unaffected under a no-deal Brexit. The retail industry has been crystal clear in its communications with Government over the past 36 months that the availability offresh foods will beimpacted as a resultof checks and delays at the border."
Documents from the government's no-deal preparations, dubbed Operation Yellowhammer, which parliament recently forced the government to publish, reveal a worst-case scenario for goods imported from the EU.
The document warned of border delays, predicting that 50-85 per cent of lorries crossing the Channel may not be ready for a new French customs regime.
The lack of trader readiness combined with limited space in French ports to hold 'unready' HGVs could reduce the flow rate to 40-60 per cent of current levels within one day as unready HGVs will fill the ports and block flow," it said.
Such a situation might last for up to three months, the document revealed, while disruptions could go on for "significantly longer", as lorries are forced to wait for a maximum of one-and-a-half to two-and-a-half days to cross the border.
'HGVs that are caught up in congestion in the UK will be unable to return to the EU to collect another load and a proportion of logistics firms may decide to avoid the route should there be significant and prolonged disruption," it stated.