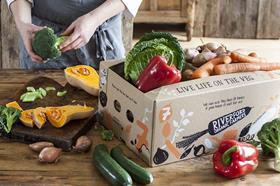 Organic fruit and veg box suppliers Riverford has stopped taking orders as huge demand in the wake of the Covid-19 coronavirus pandemic putting 'huge strain' on its delivery operations.
The Devon-based co-operative told customers that it needed time to catch up with unprecedented volumes of orders as vast numbers of Brits buy groceries in bulk, in preparation for self-isolation. Managing director Rob Haward said they were not currently accepting new customers too.
Despite fresh produce supply remaining strong, panic-buying has blighted supermarkets, who have imposed rationing measures on shoppers, with Sainsbury's and Asda limiting purchases to a maximum of three on all goods.
"We've seen unprecedented demand at very short notice, putting huge strain on our box-packing lines and drivers. To help us catch up, we had to temporarily stop taking any new orders or accepting new customers," said Haward.
"We will re-open the website shortly and will continue to prioritise our loyal and existing customers where we are seeing a huge increase in demand. New customers can register their details to join a waiting list and we'll be in touch as soon as we can take your order."
As with other fresh produce businesses, Riverford reassured the public that supply was not the issue, with high levels of stock available.
"There are currently no issues with supply – it's actually been an abundant spring for UK-grown vegetables, especially things like cauliflowers and purple sprouting broccoli.
"We also import from our long-term growers in Spain and Italy and are currently facing no challenges bringing in supply from these areas, although we are reviewing the situation regularly. The challenges we currently face are operational around packing and delivering an extraordinarily high number of boxes."
Riverford said demand for fruit and veg was surging, with the company experiencing its highest volume of orders outside of Christmas, as the public stays at home due to self-isolation and social distancing measures.
"We're running at around 25 per cent up on sales, and last week was our highest week of deliveries outside of Christmas. This has been driven by those self-isolating for coronavirus or avoiding public shopping spaces to protect themselves by choosing home delivery, as well as the demand for healthy, organic food."
"The increase in orders has come from our existing customers adding more items to their usual order, not from new customers. On average, Riverford delivers 55,000 organic veg boxes every week – if every one of those existing customers adds one or two extra items, it soon adds up to hundreds of thousands more to pick and pack.
"In addition, people who would usually only order occasionally are now making weekly orders.We are also identifying and prioritising vulnerable customers where possible, which we're able to do through our network of local Riverford teams across the country."
One of the major concerns for all fresh produce businesses is the effect these self-isolation measures could have on members of staff, with many parents now needing to stay home to look after their children, as the schools close today.
"As with any business, we are also planning for how we will cope without delivery drivers, pickers or packers unable to work due to illness or self isolation.
'Fortunately, Riverford is an employee owned business with a culture of 'chipping in' to help fellow co-owners. Our our sales teams, who have been brought in off the high streets to protect themselves and customers, are now helping out as van drivers, many of the marketing team are now in customer services, and our restaurant staff have offered to help pack boxes.'