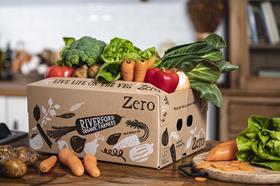 Organic fresh produce delivery company Riverford has launched a new packaging-free veg box following calls from customers to go plastic free.
The new "Box Zero" will also come without any punnets or bags, "not even a rubber band" according to Riverford, and will help the company meet its pledge to go plastic free by the end of 2020.
"Customers asked for a plastic-free veg box; we're really pleased to have gone one step further, creating a packaging free box of loose veg," said Luke King, Riverford's commercial director.
Riverford's organic veg boxes already use 82 per cent less plastic than the equivalent organic produce in supermarkets, as verified by independent agency Savanta, and the company has pledged that its fruit and veg will be 100 per cent plastic free by the end of 2020.
"Our first instinct is to reduce, re-use or recycle packaging. We reuse the veg boxes up to 10 times, but the use of packaging for some products, particularly salad and fruit, is essential for product care and shelf life," said King.
"We will be launching a home compostable material for these products in 2020, but for customers who would rather avoid all packaging altogether, we're delighted that we can now deliver our Box Zero to them."
Riverford founder, Guy Singh-Watson, added: "Treating our environment as a receptacle for waste is just unacceptable, and I do really welcome the interest around plastic as a signal that it's becoming less acceptable. But I will continue to say that the single biggest challenge facing our planet by a long, long way is climate change."
Riverford's new zero packaging veg box will be priced at £15.35, and include eight seasonal organic vegetables every week.
Staples like potatoes, onions and carrots will be regular appearances, alongside seasonal favourites like little gem lettuce, red peppers, parsnips and chard. Produce that requires packaging, such as cherry tomatoes or leafy salad or vegetables, will not be available in the box.
The new Box Zero is part of Riverford's Packaging Pledge, a long-term and continuous review of the best and most ethical decisions for packaging built around reduce, re-use or recycle principles.
The Packaging Pledge also includes a move to home compostable packaging to be complete by the end of 2020. Other initiatives include having switched from plastic netting to nets made of beech wood for citrus and onions, something that is saving 180km of plastic per year, and removing packaging from produce like cauliflower.