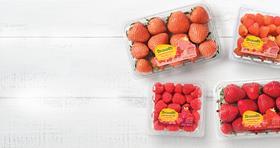 Last year's mainstream fruit buzz in the US was all about "Cotton Candy" grapes (candy floss to the British), which featured a super-sweet taste and had a subtle spun sugar flavour, and these are now in almost all UK retailers after a more limited distribution in 2018. Last year these had finally reached saturation in the US, with piled-high (it's what they do best) displays.
This year's big buzz has limited distribution and the trendy Instagram influencers love a 'treasure hunt' mentality. That buzz is for Rosé strawberries and raspberries. They are far from mainstream because only a small handful of more premium retailers have the product, as is the nature of fresh produce NPD launches.
Both varieties will be available from June to September this year. The strawberries are a very pretty, creamy pink colour, with a sweet peachy flavour and floral finish. This gives them that rosé wine flavour the 'developers' (which – how kitsch and American – they call 'joy makers') were trying to achieve. The raspberries have a very similar hue developed by mixing golden and red raspberries.
The prettiness of pink is often a winner in many walks of life, though sadly when testing pink celery, taste panels always come back as saying it looks too much like rhubarb, no matter how good it tastes.
Retail-wise they will no doubt come in at an impressive premium but these are from a brand, Driscoll's, that successfully sells 'long-stem strawberries' for $5.99 for 13 fruit! And honestly, other than looking adorable on top of a gateau or dipping them in chocolate, I see no other reason to pay that premium for a stem I am not going to eat.
In the right retailer, 'pink' will fly off the shelves regardless of premium. Whether they will be piled high next year and winging their way to the UK remains to be seen.
However, despite the hype of the press releases and bloggers (and the fact that my local premium retailer is on the distribution list) I have yet to successfully get my hands on a single pack. 'Scarcity marketing' at it's very best and most successful!
And I so wanted a glass of sparkling wine with rosé raspberries in it – in the name of research of course!