Valley Grown Salads director becomes seventh president in LVGA's 112-year history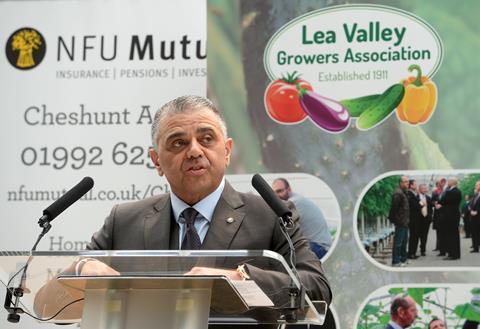 Jimmy Russo has been named as the next president of the Lea Valley Growers' Association (LVGA).
Russo is a director of Valley Grown Salads and Valley Grown Nurseries, and becomes only the seventh president - and first of Sicilian descent - in the association's 112-year history.
He has served on the executive committee of LVGA for the past six years and is a director of Lea Valley Growers' Association Ltd.
The former chairman of Watford Football Club lists among his most notable encounters having had lunch with Elton John at his house and meeting Charlie Chaplin as a 16 year old while working as a waiter at the Savoy Hotel in London.
Russo won the Horticulture Week Salad Grower of the Year award in 2017, and received the Italian equivalent of a knighthood - Cavaliere L'Onorificenza - in 2014 for his work helping the Italian community in England.
The LVGA's members and executive committee said Russo "brings to the position a wealth of knowledge and an array of experience in the horticulture industry, on a local, national and international level".
Russo said: "My roots are in Lea Valley horticulture, being the first British-born child of Italian migrants in the 1950s. I followed my father into the glasshouse growing business and have remained for over 40 years. I have admired the work of the association for many years, so it is an honour to be elected by members to the position of president."
LVGA secretary Lee Stiles added: "Jimmy's background in the Lea Valley horticulture industry, coupled with the respect he receives within the industry, will place members in a great position to enjoy continued success as primary salad producers, ensuring that the Lea Valley remains the Cucumber Capital of Britain, and is well positioned to take on new opportunities."