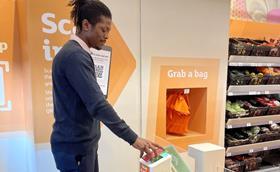 Sainsbury's has adoptedAmazon's Just Walk Out technology as it trials a contactless, checkout-free shopping experience.
The supermarket's convenience store at Holborn Circus features Sainsbury's SmartShop Pick & Go, which uses Amazon's Just Walk Out technology.
To enter the store, customers scan a QR code using their SmartShop app, which is linked to a credit or debit card. Just Walk Out technology automatically adds anything the customer takes off the shelf to their virtual cart and removes anything they put back on the shelf.
The customer leaves the store by scanning the QR code to exit through the store's automatic gates. Their linked card will be charged for the items they pick and customers will receive a receipt via email when they have left the store.
Staff will be on hand in the store to assist customers and keep shelves well stocked. The Holborn store was selected as it is primarily focused on offering on-the-go food and drink to busy local workers who want to complete their shopping as quickly as possible.
Just Walk Out technology is currently used in dozens of Amazon Go stores, select Amazon Fresh stores, and other third-party retailers in the US.
Sainsbury's said the move is 'the latest example of Sainsbury's strategy to use innovative technology to make shopping convenient for customers and builds on recent successful digital initiatives such as My Nectar Prices, Same Day Home Delivery and Click & Collect and the further rollout of tech-based On Demand service Chop Chop.'
The retailer pointed out that customer demand for contactless ways to shop in stores has increased, especially since the start of the pandemic. SmartShop is available in around 1,400 Sainsbury's stores, with sales up 173 per cent versus last year. In supermarkets with SmartShop handsets, 30 per cent of sales are now generated through the app, more than twice the level of last year and SmartShop Mobile Pay is available in nearly all convenience stores.
Clo Moriarty, Sainsbury's retail and digital director, said: "We are always looking at new ways to make shopping easy and convenient for our customers. We are excited about launching 'SmartShop Pick & Go,' which offers contactless, checkout-free shopping to our customers and are looking forward to hearing their feedback."