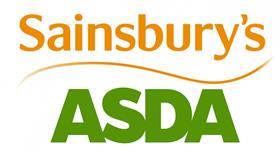 Sainsbury's and Asda have been banned from joining forces for ten years, adding insult to injury following the failure of their proposed merger.
TheCompetition and Markets Authority (CMA) has blocked Sainsbury's from acquiring a stake in Asda or any of its subsidiaries for the next decade, with the UK's second-largest retailer also prohibited from buying an interest in any business that has a holding interest in Asda.
The same rules apply to Asda and its parent company Walmart until 9 July 2029.
The CMA's tough stipulations come after it blocked the proposed £13 billion merger at the end of April.
The watchdog said the merger risked causing a "substantial lessening of competition" and was "more likely to lead to price rises than price cuts".
Sainsbury's and Asda had promised to invest £1 billion in price reductions during the first three years of the merger, as well as offering to sell off up to 150 stores to satisfy competition concerns.
In its preliminary results for the year to 9 March 2019, Sainsbury's revealed its failed bid to merge with Asda cost it £46 million in deal preparation, integration preparation and financing costs.