Initiative aims to combat growing crisis of food insecurity, now and in the future
Sainsbury's has launched a new, long-term Nourish the Nation project to tackle food insecurity and ensure communities have access to balanced, nutritional, and sustainable food sources.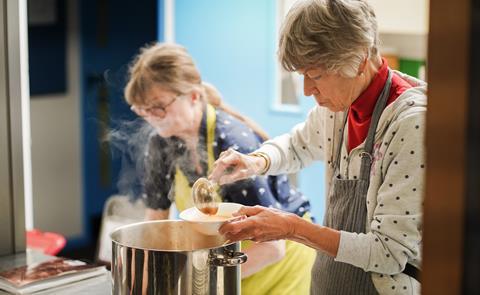 Working with charity partner Comic Relief, the supermarket will donate £3m to those in need as research suggests 13.7m people in the UK struggle to afford to eat.
The money will be split evenly between supporting communities with access to food now, and backing projects that help prevent people and communities falling further into food poverty in the future.
As part of the campaign, between 23 November and 24 December, Sainsbury's is encouraging customers to donate if they can and has pledged to match donations up to £1.5m, with the funding going to Comic Relief.
To support the Nourish the Nation programme, customers can make donations to Comic Relief in store and online at Sainsbury's, in store at Argos, or by donating Nectar points.
Sainsbury's pointed out that a £1 donation could help buy fruit and a healthy snack for a child, with £5 helping feed a child for a day at a community hub during school holidays. Customers can also donate food at donation points in store, which will go to local food charity partners.
This year, through its partnership with Comic Relief, Sainsbury's is additionally supporting two organisations – Feeding Britain and The Bread and Butter Thing – to help alleviate food poverty in communities that need it most.
It is also donating a further £1.5m to key food distribution networks, with £500,000 going to FareShare through Comic Relief's On the Breadline Winter cost-of-living Christmas appeal, which will provide funding for the equivalent of 2m meals to those living in food poverty across the UK.
Ruth Cranston, director of corporate responsibility and sustainability at Sainsbury's, said: "With more challenging months ahead, support for those facing food poverty has never been more critical. We know how difficult the rising cost of living is for so many communities across the country, which is why we've launched our new community programme Nourish the Nation, to help ensure that people have access to the food they need right now, while also helping to prevent those who are most at risk from facing food insecurity in the future.
"We are dedicated to supporting the communities we serve and through our large-scale work with longstanding partners Comic Relief and FareShare, whilst supporting local projects with Feeding Britain and The Bread and Butter Thing, we hope we can go some way in providing relief to vulnerable communities up and down the country over the coming months and beyond."