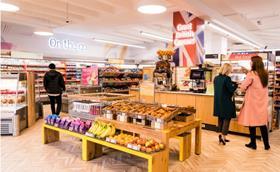 Sainsbury's has launched its first "on the go" store format which features "expertly tailored aisles" based on data and analytics to offer shoppers more relevant products.
The new city convenience store format was unveiled at Sainsbury's Mansion House location, and combines freshly made and prepared in-store food and drink with convenient ways to shop with Sainsbury's and Argos.
With almost 90 per cent of the products in the store being picked specifically to meet the needs of customers, the retailer says it used data and analytics to design the 2,200ft2 store to match the needs of busy city workers.
Sainsbury's plans to open the new format in Edinburgh, Bristol, Glasgow and London over the coming months, further testing the format in city centres. Sainsbury's has over 130 Local stores in urban areas that could be converted into On the Go stores.
Graham Biggart, Sainsbury's director of commercial operations, said:"Convenience is a growing part of our business and we have greater capability than ever to truly tailor Local stores to local needs – across our products, formats, services and operations.
"Our new On the Go Mansion House Local is a great example, bringing a new kind of convenience to busy local workers with limited time and delivering the curated range and fast experience that will enable them to get exactly what they want at pace. We're confident this format will further strengthen our market-leading position in convenience."
A range of digital services will also help customers shop quickly, with till-free SmartShop mobile app and rapid-exit checkouts being deployed.
Sainsbury's says the new On the Go format taps into the growing convenience trend. According to IGD the UK food to go market is forecast to be worth £23.4bn by 2024, up from £18.5bn in 2019, growing by 26.4 per cent.
By the end of March 2020 Sainsbury's will have invested significantly in improving 200 of its 807 convenience stores.
Donna Emerton, Sainsbury's Mansion House store manager, said: "We're really excited to bring local shoppers our new Mansion House store. By focussing on fresh 'On the Go' food and drink and making it even easier for customers to shop quickly and conveniently, we're well-placed to bring busy city workers everything they need under one roof."