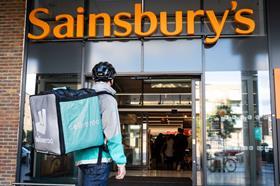 Sainsbury's has become the latest retailer to announce a new trial with Deliveroo, following in the footsteps of Waitrose, Aldi and Morrisons.
The UK's second largest supermarket is now offering an on-demand delivery service from its North End Crescent Local store in Hammersmith, before extending the trial to a further nine stores across the UK over the coming weeks.
Deliveroo customers will be able to order from more than 1,000 Sainsbury's own-label and branded products through the Deliveroo app for delivery in as little as 20 minutes.
If successful, the on-demand delivery service could roll out to further Sainsbury's stores
Nigel Blunt, director of eCommerce at Sainsbury's, said: "Since March we've more than doubled our grocery online capacity and by working with Deliveroo we can serve even more shoppers this way."
Deliveroo, which works with 44,000 restaurants and 35,000 riders in the UK, has seen rapid growth and expansion in on-demand convenience and grocery delivery in recent months and is keen to build on this momentum.
The food delivery company has launched 16 new on-demand convenience and grocery partnerships in the UK this year, with the likes of Waitrose, Aldi and Morrisons.
In total, the partnerships cover 1,000 new stores and this represents the fastest-growing area of the business. The partnerships have been vital for people who need essential groceries and household items during the pandemic, especially the elderly and vulnerable.
Ajay Lakhwani, vice president of new business at Deliveroo, said: "Deliveroo's on-demand grocery partnerships have proven vital for so many people during this difficult period, allowing families to get the food and household items they need and want quickly. We are excited to develop this trial in the weeks ahead and offer Sainsbury's amazing products to customers across the UK."
Deliveroo also partnered with Pret, Co-op and suppliers such as Sheringhams, to deliver thousands of free meals to families over half term and in the run up to Christmas.
The company will deliver surplus food, juices, healthy snacks, cereals and fresh fruit and veg to the Felix Project and FareShare, who will then distribute it to frontline charities, food banks and families.