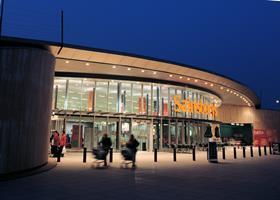 Sainsbury's has predicted that the impact of Covid-19 will hit profitability by up to half a billion pounds, but expects this to be offset by increased sales and business rate relief.
In an announcement that had echoes of Tesco's recent results, Sainsbury's modelled numerous scenarios for the coming months, with the base assumption being that lockdown restrictions will have eased by the end of June but that business will be disrupted until at least mid-September. It also assumes that demand for general merchandise and clothing will be weak in the medium term.
While a profit impact of over £500 million is expected due to the cost of protecting customers and colleagues, as well as weaker fuel, general merchandise, clothing and financial services, this should be offset by stronger grocery sales and around £450m of business rate relief.
The group therefore stated it expects underlying pre-tax profit to be largely unchanged in the year to March 2021.
Announcing its results for the 52 weeks to 7 March 2020, Sainsbury's reported groupsales down 0.1 per cent at £32.4bn, with underlying pre-tax profit falling 2 per cent to £586m. It put the profit decline down to a 15 per cent reduction in the first half due to phasing of cost savings, higher marketing costs and tough weather comparisons.
Lower-priced fresh produce
The retailer said grocery sales improved throughout the year following investment in pricing, entry price point ranges and new and improved products. It also grew online sales by 7.6 per cent and convenience sales by 1.3 per cent.
That price investment included the lowering of prices of a range of fresh produce items, including apples, mangoes and avocados, to 60p as part of a target to launch 200 entry price point products across 15 own-brand ranges.
Chief executive Mike Coupe said: 'The last few weeks have been an extraordinary time for our business. First and foremost, I want to say thank you to all of our colleagues. They have shown outstanding commitment and resilience over the past few weeks and I am in awe of their adaptability and the efforts they have made to continue to serve our customers.
'Across every part of the business, colleagues have played their part as we have done everything possible to feed the nation and to prioritise those who are least able to access food and other essential services. This is an unsettling time for everyone, but I am incredibly proud of the way the business has responded, continually adapting and responding to customer feedback. We will continue to work hard to provide food and other essential products to households across the UK and Ireland who are adapting to a new way of living.'