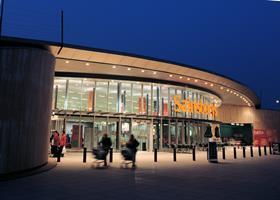 Sainsbury's has announced a five-year plan to close up to 55 supermarkets and convenience stores in a rejig that will see the retailer open around 120 new stores.
Looking to reduce its costs by £500 million and double underlying profits, the supermarket chain said it expects to close 10-15 supermarkets and 30-40 Sainsbury's Local stores.
This will be offset by the opening of around 10 new supermarkets and approximately 110 new convenience stores.
The retailer is also planning to reorganise its Argos estate, with plans to close 60-70 standalone Argos stores and open around 80 new Argos shops within Sainsbury's supermarkets.
"We expect the closures to deliver an ongoing net operating profit benefit of c.£20m per year," Sainsbury's said in a trading statement published on 25 September. "We expect the one-off cost of closures and impairments to be £230m to £270m, of which the cash cost will be £30m to £40m."
Although the supermarket chain didn't give any information on which stores would be closing, it said the axed Argos outlets would be relocate to nearby branches of Sainsbury's.
Will Broome, the chief executive and founder of shopping appUbamarket, commented: 'Today's announcement from Sainsbury's could, on one hand, be worrying for the retail industry because if the likes of the Big Four experience store closures, who else will follow suit?
"However, perhaps the industry could benefit from the news bytakingnote of changing consumer trends and the potential rise in popularity of convenience stores.
"Supermarkets and local stores alike need to adopt ways to create the same experience so that consumers can shop and buy at ease, which ultimately encourages more footfall into stores."
Reporting on its second-quarter financial performance, Sainsbury's said like-for-like sales (excluding fuel) dropped by 0.2 per cent, although total sales were up 0.1 per cent, with grocery increasing by 0.6 per cent.
The current outlook on profits is less encouraging, with the retailer saying it expectsunderlying pre-tax profits for the first half of 2019 to reduce by around £50m year on year due to the phasing of cost savings, unseasonal weather compared to last year and higher marketing costs.
Nevertheless, Sainsbury's insisted it was "on track" to deliver full-year pre-tax profits for 2019/20 despite the fact "retail markets remain highly competitive and the consumer outlook remains uncertain."
"We expect to benefit from the annualisation of last year's colleague wage increase and a normalisation of marketing costs and weather comparatives," the retailer said in its financial update.
Chief executive Mike Coupeadded:"Sales momentum was stronger in all areas and we further improved our performance relative to our competitors, particularly in grocery. "We have focused on reducing prices on everyday food and grocery products and expanding our range of value brands, which have been very popular with customers.
"At the same time, we are investing significantly in our supermarkets, driving consistent improvements to service and availability."