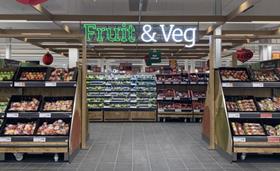 Sainsbury's has trialled a new 'Fresh Food Market' concept at its revamped Hempstead Valley store, with fruit and vegetables front and centre of the experience.
According to the supermarket, the new format is brought to life with a market-style presentation of fresh fruit and vegetables, new signage and a focus on seasonality and British heritage. The chain said it is 'committed to championing the freshest food at the most affordable price and is confident customers will really enjoy this spacious, safe and inviting shopping environment.'
The relaunch of Hempstead Valley's food hall is part of a multi-million pound store redevelopment and Sainsbury's new plan to put food back at the heart of the business. The redevelopment started in June and is due for completion in February next year.
Sainsbury's said the store redevelopment reveals its latest thinking in format and store design including updates to decorative imagery, lighting and fixturing. The pilot will also allow it to review how customers and colleagues interact with the new environment and will keep customers updated on future rollouts, it added.
The Hempstead Valley store upgrade aims to provide local customers with a brighter, fresher superstore with a spacious layout and enhanced product and service offering. The store is also getting a new Argos store in store, and updated Tu clothing and Home section. Other updated sections in the store include the refreshed café, new look bakery, hot pizza counter, self-serve patisserie counter, food-to-go hub, beauty department and floral offering.
Graham Biggart, Sainsbury's commercial operations director, said: "At Sainsbury's we put food first and our new Fresh Food Market is a great example of what we are doing to delight our customers in our stores and showcase our brilliant products. We have created an environment that is both exciting and easier for our customers to shop our delicious, nutritious and great value food.
'We have also designed the Fresh Food Market to be operationally simpler for colleagues to replenish and maintain. We're looking forward to hearing what our customers and colleagues think of the new format and design as we prepare to roll out more changes across our stores in the future."