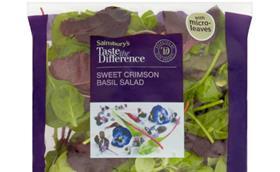 Sainsbury's has launched a new range of salads which include edible blossoms and micro-herbs.
The retailer said the move responds to food trends it has identified among its customer base.
The range includes Taste the Difference (TTD) Sweet Crimson Basil Salad, including micro-leaf crimson basil, colourful baby leaves, and viola flowers;TTD Aromatic Oriental Salad, comprising coriander and purple shiso, with tender baby spinach, sweet red batavia lettuce and tatsoi;TTD Powerful and Punchy Salad, featuring wild rocket and tender baby watercress, with savoury baby red chard, spicy young nasturtium leaves, micro-leaf rocket and radish cress.
Georgina Lunn, Sainsbury's product developer for fresh produce, said: "We've seen a trend for customers making everyday food more exciting, and this new range of salads helps them to create salads which are full of colour, texture and intriguing flavours using more exciting leaves, micro-herbs and even edible flowers.
'We've used viola flowers, which have a velvety texture, intense purple colour with a lettuce-like flavour - the perfect finishing touch to a summer salad."
The new range of bagged salads launch in Sainsbury's this week (w/c 27 April), and are widely available in store and online priced at £1.75.