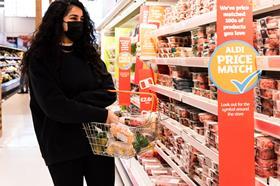 UK supermarket Sainsbury's has today (28 April) reported a strong operating performance, with grocery sales up 7.8 per cent and digital sales up 102 per cent, in its preliminary results for the year ending 6 March 2021.
However, the retailer said its underlying profit-before-tax was down 39 per cent to £356 million due to strong sales growth being offset by £485 million in direct Covid-19 costs.
Sainsbury's added that its statutory loss-before-tax of £261m predominantly reflected one-off costs and impairments associated with "strategic changes announced in November".
But it said it expected underlying profit-before-tax next financial year to exceed its March 2020 level of £586m and reach around £620m.
"We have made good early progress with the plan we announced in November to put food back at the heart of Sainsbury's," Sainsbury's said in a statement. "We are changing at pace, making bold decisions and investing in the areas that matter to customers, underpinned by an accelerated cost saving programme."
The supermarket explained that it had improved the value of its food ranges, lowering the prices of "products that matter most to customers", and had extended its Price Lock price commitment.
Sainsbury's said customers were responding to its 'Sainsbury's Quality, Aldi Price Match' campaign by spending more at its stores, more often.
The retailer added that it had gained more online grocery market share than key competitors, and that profitability from its groceries online had grown from 8 per cent in 2019/20 to 17 per cent in 2020/21.
Going forward, Sainsbury's reiterated its commitment to changing its ways of working and its supplier relationships, as well as its bid to triple its levels of new product innovation to 1,900 products in the year ahead.
It added that it was building on its existing 'Net Zero by 2040' commitment, and had announced a new target to reduce its absolute greenhouse gas emissions by 30 per cent by 2030.
Commenting on these latest results, Simon Roberts, chief executive of J Sainsbury plc, said: "This year's financial results have been heavily influenced by the pandemic. Food and Argos sales are significantly higher, but the cost of keeping colleagues and customers safe during the pandemic has been high. Our full-year direct COVID-19 costs were £485 million, leading to a 39 per cent decrease in full-year underlying profit.'
He added: "We have a bold three-year plan to put food back at the heart of Sainsbury's and drive improved performance. We are transforming the way we work and I am encouraged by how all of our teams have responded and the early momentum and performance towards our plan."
In his statement, Roberts also thanked his colleagues for their tireless and heroic efforts over the last 12 months to help feed the nation and keep customers safe during the pandemic.
"I also want to especially recognise our suppliers for all their support and partnership throughout this year in keeping goods flowing for our customers. They have done a fantastic job," he added.
"Throughout the pandemic, we prioritised: keeping our colleagues and customers safe, supporting our communities, particularly the most vulnerable and helping to feed the nation."
Sainsbury's said its Covid-19 measures included delivering over 12 million online orders to elderly and vulnerable customers; increasing the hourly rate of pay for store staff; supporting suppliers in distress with vital cash flow; and paying nearly 1,500 small businesses earlier.