There will be 45,000 visas in 2023, with potential for a further 10,000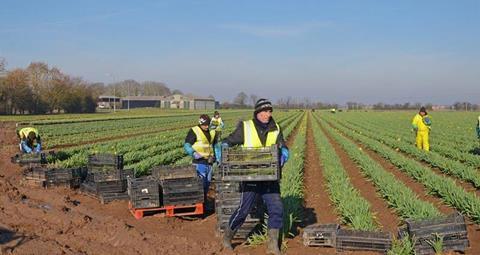 The government has announced an increase in the number of seasonal workers' visas for next year, in a pre-Christmas boost for growers.
Defra confirmed that 45,000 visas would be available for the industry in 2024, up from 30,000 at the start of last year, allowing businesses to recruit foreign workers for up to six months through the Seasonal Worker Visa route.
There is also potential to increase by a further 10,000, depending on industry needs, and contingent on "sponsors and growers improving and abiding by worker welfare standards, including ensuring nworkers are guaranteed a minimum number of paid hours each week."
The first 4,000 visas will be made available to operators before Christmas, to enable daffodil growers to harvest at the start of the new year.
New team and scheme operators
The government said it will be appointing new scheme operators to help with the efficient running of the visa route and to help safeguard worker welfare.
A new team will also focus on ensuring sponsors are abiding by workers' rights by improving training and processes for compliance inspectors. It will additionally create clear policies and guidance for robust action for scheme operators where workers are at risk of exploitation.
Farming minister Mark Spencer said: "Seasonal labour has long been part of the UK's rural economy, and while it is right that we offer long-term support to increase the use of domestic labour, we also need to support businesses on the back of what has been a challenging year for food producers.
"That's why we've listened to the UK's horticulture sector, and today's announcement will provide our growers with the labour they need to bring in the harvest and continue to put their produce on our tables."
Relief for industry
News of the increase in visa numbers has been welcomed by senior industry figures. Nick Marston, chairman of British Berry Growers, said: "We are pleased to see the expansion of the scheme to 45,000 visas for the coming year. The additional visas will ease labour concerns and provide greater certainty for growers ahead of the coming season, ensuring that the best in British berries can be enjoyed by shoppers across the UK.
"We will continue to press Defra and the Home Office to confirm measures which will further support our growers such as removing the premium on wages for SAWS workers over and above the National Living Wage, and a relaxation on the six-month rule for the coming year to allow workers to return in time for the beginning of the season."
NFU deputy president Tom Bradshaw described the announcement as a positive step forward and a relief for growers, though he added that it came too late for some who have already decided to reduce plantings. "We'll be closely monitoring the situation this season and given the significant pressure growers are currently under, it's important that any decision to release the further 10,000 visas is timely and made ahead of the peak season," he explained.
"Earlier this year, the government's food strategy reflected the sector's ambitions to increase the amount of fruit and veg grown on home soil. To see this ambition realised, growers need longer-term certainty. The NFU will continue to ask for a minimum of a five-year rolling SAW scheme to give growers the confidence to invest in their businesses, and boost Britain's production of nutritious and affordable fruit and vegetables."