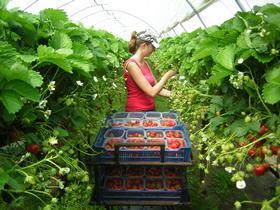 The government has confirmed it will expand the pilot Seasonal Agricultural Workers Scheme (SAWS) to 10,000 for the 2020 harvest, following the announcement of its new points-based immigration policy.
Home Office secretary Priti Patel unveiled government plans for Britain's new immigration rules last night, describing it as a "historic moment for the whole country".
New requirements for immigrant workers now include a £25,600 minimum income, the ability to speak English, and a points threshold set for all immigrants looking to work in the UK.
The policy has attracted criticism for effectively blocking the route for 'low-skilled' workers in professions such as transport, retail, agriculture and the care industry, with a large number of jobs in those sectors falling below the threshold requirements.
While agriculture has long expressed concerns over shrinking numbers of seasonal workers required to pick and pack fresh produce, the new immigration plan will not immediately impact seasonal workers, who have worked in the UK this year, as they have "right to remain", allowing them to work in the UK for the next three years.
Agri-HR managing director Jan Willem Naerebout told FPJ: "Someone only needs to work for one day between now and December 31 2020 for them to be able to continue working here for the next three years," he adds. "The big question is what will the government do in terms of a SAWS immigration scheme."
The expansion of SAWS to 10,000 has been welcomed by industry figures, with the caveat that it will be ultimately be expanded to meet the 70,000 plus season workers required for British fruit and vegetable harvests.
Agriculture labour recruiters, HOPS, also described the expansion as a good "first step" towards having a reliable workforce for the UK's fresh produce industry.
'HOPS welcomes the news that the government is expanding the Seasonal Workers Pilot and allowing farmers access to up to 10,000 workers in 2020. This announcement is positive progress towards a fully-functioning scheme that is fit for purpose for the land-based industry,' said HOPS operations director Sarah Boparan.
"The boost in numbers will provide businesses with more confidence ahead of this year's peak production periods and we hope it also paves the way for the introduction of a permanent scheme. UK growers are an asset to the UK economy but they need reassurances that they will continue to have access to a reliable and available workforce in order to invest and thrive."
Following the announcement of the scheme's expansion Defra secretary George Eustice said: "Expanding our Seasonal Workers Pilot will help our farms with the labour they need for this summer's harvest, while allowing us to test our future approach further.
"We will always back our farmers and growers, who produce world-famous British food to some of the highest standards anywhere in the world."