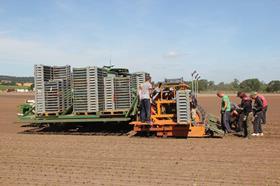 Seasonal worker scheme operators Pro-force and Concordia have sought to reassure UK fruit and vegetable growers that they will have enough labour to pick their crops over the coming weeks and months, in spite of the unfolding crisis in the Ukraine.
In the hours after Russia invaded Ukraine this morning (24 February), Pro-force said it had alternative plans in place to backfill jobs and process visas for seasonal horticultural workers from alternative countries, and that it is in touch with the Home Office for clarity on the developing situation.
UK produce growers need not despair, and 'will have enough workers', the operator told FPJ. There may just be a small delay as contingency actions are put in place.
According to Home Office statistics, Ukrainians represented 67 per cent of the 30,000 Seasonal Worker visas issued in 2021. The next highest grants were for Russian (2,278, 8 per cent), Bulgarian (1,111, 4 per cent) and Belarusian nationals (1,007, 3 per cent).
Pro-force, one of the four licensed UK Seasonal Agricultural Workers Scheme operators, said it typically recruits 60 per cent of its seasonal workers from Ukraine and that its immediate concern was with the safety of its workers in that country.
Pro-force international recruitment manager James Mallick told FPJ: "I can't talk for all operators, but for Pro-force we have contingency plans in place for the seasonal workers scheme. Right now, our hearts and thoughts go out to the Ukrainian people."
Kate Quick, head of marketing, communications and fundraising at SAWS operator Concordia, said they were currently collating data to assist the Home Office and Defra with the unfolding situation.

"As this situation has been developing for some time, we do have a back-up plan so that UK agriculture will continue to be supplied with the sufficient number of workers," she told FPJ.
Ali Capper, chair of NFU horticulture & potatoes and executive chair of British Apples and Pears, told FPJ that permanent SAWS operators have been 'very cognisant' of the unfolding situation in the Ukraine over the last few weeks.
'I know they have all been very aware of the situation, and I know they all have plans in place,' she said.
British vegetable growers have expressed alarm at the possible impact the devastating events in Ukraine could have on food production here in the UK, given that 75 per cent of SAWS workers came from the Ukraine (67 per cent) and Russia (8 per cent) last year.
Growers told the FPJ that several vegetable producers are now so worried they won't have enough labour this year that they will slash plantings by up to 70 per cent, or won't risk planting any crops at all for the next 12 months.
Commenting on the situation, Jack Ward, CEO of the British Growers Association, said: "We are deeply shocked by the decision of Russia to invade the Ukraine and our thoughts are with the Ukrainian people.
"One of the implications here is on the UK fresh produce industry. Flights from the Ukraine are cancelled for the next four weeks. Fertiliser costs are expected to spiral. Securing labour has once again been thrown into question. The situation has highlighted just how fragile our food security is."