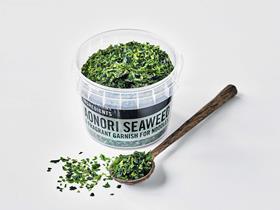 Seaweed is set to be the must-have ingredient of 2021, according to Waitrose.
The supermarket reported sales in 2020 were up 23 per cent when compared to the year before, and 71 per cent higher than in 2018.
Flavour-filled and versatile, seaweed is fast becoming a store cupboard staple for scratch cooks, according to Waitrose. As well as being used as a fragrant garnish for noodle dishes, it can also be used to make a crispy side salad or to create an umami rich dressing.
Customers are also looking for inspiration online, the retailer added, with searches for 'seaweed' up 141 per cent on waitrose.com compared to last year and searches for 'crispy seaweed' up 18 per cent.
Seaweed also has a variety of health benefits. A recent article in Waitrose Health Magazine noted studies in the Journal of Applied Phycology and Marine Drugs have linked it with reduced cholesterol levels and blood clotting, as well as the maintenance of healthy blood pressure.
"Seaweed is a source of iodine, which supports thyroid and cognitive function," said Anna Daniels of the British Dietetic Association in Waitrose Health Magazine. "Its rich nutrient profile includes carbohydrate, fibre and protein, as well as iron; B vitamins; manganese; copper; vitamins A, C, E and K; zinc; potassium and magnesium. Vegans find it useful as a source of amino acids, calcium and omega-3 essential fatty acids".
Jenna Doran-Twyford, Cooks Ingredients buyer at Waitrose, added: "Seaweed is an incredibly versatile ingredient and it's great that customers are becoming more aware of its uses. We've noticed our customers wanting to understand the true nutritional value of what they are eating, as well as becoming more adventurous in the kitchen. By trying out different cuisines, we expect seaweed will continue to grow in popularity and our Cooks' Ingredients range aims to introduce budding home cooks to new and exciting culinary trends and we are glad they have embraced seaweed so quickly."
The recent Waitrose Food and Drink Report reported that the overall influence of Asian ingredients was becoming ever more present, with store cupboard essentials from Asia reported as the fastest growing of the Cooks' Ingredients range.