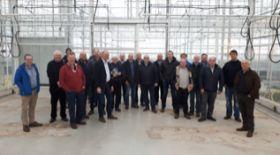 British seed potato growers travelled to the Netherlands to see first-hand the developments in a competing nation.
AHDB's head of potato exports Patrick Hughes, joined 22 growers on a three-day mission last week to see Dutch innovation in action – focussing particularly on grading.
The team, which arrived in Amsterdam, visited VHM Machinery at Ens to see the company's current grading equipment before meeting with Dutch farming cooperative Agrico to learn aboutpotatocyst nematode (PCN) controls in the country.
There werealso tours of Agrico's quality control facility, HZPC research – the global market leader in seed potato trading – and the Bilsma Hercules factory. The delegates had a chance to meet with Dutch growers to share learnings and best practice.
Mr Hughes said: "This study tour provided a fantastic opportunity for UK growers to gain greater insight into the practices of our Dutch counterparts – which is valuable for the UK potato industry.
"Not only did the team meet with enthusiastic growers and share industry knowledge and expertise, they saw how innovation in the Netherlands can help drive their businesses forward."
The tour precedes a large delegation of seed exporters at this year's Fruit Logistica conference in Berlin from AHDB.
Exporters aim to highlight the high health and quality of seed potato products from the UK and explore potential opportunities in new markets.
Seed exporter Rob Doig from Caithness Potatoes Ltd, said about last year's show: "Events such as Fruit Logistica are key to growing our seed potato businesses' export potential.
"AHDB provides us with a high-profile meeting place to promote our business and help us get the most out of our attendance at the show. My business certainly benefits from being at the event and we are delighted that AHDB will be there to support us again this year."