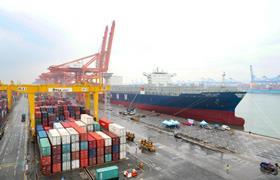 US software company Sensitech has launched a new supply chain sensor platform to mark its 30-year anniversary.
The Massachusetts-based company is looking to roll out the new SensiWatch Platform software worldwide, across fresh produce, pharmaceutical and consumer goods industries.
With food and fresh produce requiring the right atmosphere and environment during transport, Sensitech's new platform provides businesses with a single end-to-end view into customers' supply chains, with continuously monitored cargo, sending operational information to the cloud.
Real-time updates on temperature, light, humidity and location can be attained every five minutes for up-to-date in-transit information.
Alerts and notifications provide users with updates on the product's condition before it arrives at its destination, enabling early intervention for addressable issues.
"This integrated approach will improve customer responsiveness through the continuous delivery of information via our cloud-based platform and its accompanying mobile support," said Steve DiRubio, chief operating officer, Sensitech. "Further, the SensiWatch Platform is solution-focused and specifically designed to meet the needs of each segment of the supply chain.
"Utilizing cold chain data to drive process improvement and reduce costs was a concept Sensitech pioneered in its early days," said DiRubio. "We have relied on the talent of many individuals to reach this milestone – experts in cold chain, supply chain logistics, and industrial engineers alongside people with experience and creativity to deliver real value to customers."
The platform supports global in-transit inbound logistic (shopper to destination) and outbound logistic (multiple-stop distribution) shipments.
The SensiWatch platform's analytics provide real-time analytics with machine learning algorithms.
Basic reporting includes Supplier Network Overview, Segment Performance, Supplier and Carrier Compliance. Advanced reporting includes: Estimated Time to Arrival, Dwell Times, Simulated Product Temperature, Lane Risk Analytics, Weather Impact, and Crime Risk.