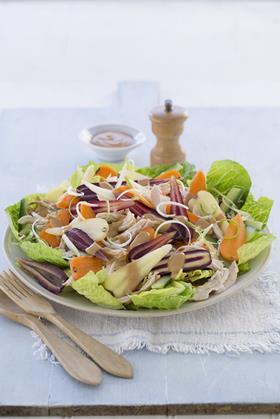 A nation not historically known for having a culinary light touch, the UK has gone salad-mad overnight. Salad veg has been one of the fastest-rising categories in recent years, with 2018-2019 proving big for products such as cucumbers, tomatoes, peppers and radishes, to name a few.
Like all fast risers, there is a tendency for sales to flatten out following boom periods, and 2019 seems to have been such a time for salad veg as volumes fell in retail sales by one per cent, according to Kantar data. The year before, salad veg saw big growth with a four per cent volume increase, with a helping hand from the 2018 heatwave.
In 2019, however, shoppers have bought less per trip, made fewer salad trips and saw fewer shoppers enter the category, according to Kantar. The salad market seems to be very retailer-dependent, with data showing Lidl and Asda as the top risers in salad veg sales.
"Overall watercress did well, but some retailers performed better than others," says The Watercress Company's managing director Tom Amery.
While last summer didn't match 2018's soaring mercury, Amery says watercress still performed, while also managing to record impressive winter sales. "Summer sales were very rewarding; where we are promoting watercress heavily, we expect to see a threefold ROS (rate of sale) increase, and successful aisle-end and price promotions over Christmas in Tesco resulted in growth of 20 per cent."
Pushing salad into the winter months is one of the category's major challenges, and demographic issues remain in getting younger age groups to eat salad veg, with 16-34 year-olds making up just 19 per cent of the consumption total. Amery says his company is aiming to bolster sales across both demographics, with the company setting up fridges offering free watercress at hospitals and gyms across the country, while the Jamie Oliver effect will also help push sales among younger age groups.
"We have kicked the year off with a major coup, with Jamie Oliver featuring watercress on his Channel 4 hit show Jamie & Jimmy's Friday Night Feast, aired on 17 January.This is a fantastic endorsement for the whole industry," Amery says.
"In 2020 we are looking at new products that will suit the NHS and other institutions where energy and nutrition are required in a simple format – such as soups or smoothies. In this way, we plan to meet a vital need within the NHS by utilising surplus UK production during the winter."
The year is also kicking off with the small matter of Brexit. With so much salad veg coming from Spain, are there still concerns in the industry about the cliff-edge scenario, which the country could face at the end of the year without a trade deal? Amery is sanguine.
"We ship directly from our farms in Spain on dedicated trucks and have a very close relationship with a local company which enables Spanish deliveries to arrive into the UK within 42 hours. Minor delays won't affect quality; many shipments from competitors generally have a longer duration so we are already well placed in terms of journey time."