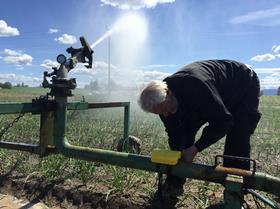 Scottish precision farming firm SoilEssentials has signed a deal with Norway's 7Sense to be the UK's exclusive reseller of its temperature, humidity and irrigation sensors.
The Norwegian tech includes a smart, wireless temperature and humidity sensor monitoring system to give growers greater control over their cold stores, greenhouses and tunnels, as well as a waterproof irrigation sensor to monitor growers' hose reel irrigation systems.
Rod Armour, head of sales at SoilEssentials said: "These systems will provide real, robust solutions to farmers and growers across the UK and we are delighted to add these 7Sense product lines to our portfolio."
Max Tangen, chief executive of 7Sense, added: "We have found SoilEssentials to be a perfect match for us to introduce our products and services to the UK market. Our product offering is developed in close cooperation with farmers."
Soil Essentialsprovides precision farming solutions to farmers, using technology and data to help them increase yields and improve efficiency.
7Sense develops wireless agricultural sensors to give growers greater control over their production and maintain product quality during storage.