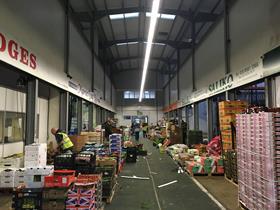 Wholesalers fear that recent flooding in Spain could hit availability of vegetables throughout winter, leading to higher prices and worse quality.
Heavy storms in south-eastern Spain have caused extensive losses to fruit and vegetable production and severely damaged infrastructure across the region.
Six people died and thousands had to be evacuated at the start of September following the 'gota fría' (cold drop), the weather phenomenon which brings heavy rains during the autumn, which is believed to have been the most severe for more than 100 years.
The worst affected provinces are Valencia and Alicante, Albacete, the Campo de Cartagena in Murcia, and parts of Almería, Granada and Málaga.
Wholesale trader Tom Hill, of JTS Hill, based at Western International Market, said some produce coming from Spain had already been affected, with prices likely to rise over the winter.
"We're now moving our supply from England to Spain but because of the downpour in Spain quality is affected. I had cucumbers come from Spain that were terrible, they were yellow," Hill said.
"You try to work with the best growers, but when they are chucking away a third of their crop due to rot, the prices will increase."
Hill said produce affected included tomatoes, aubergines, and a variety of lettuce. He added that supermarkets will also likely be forced to raise prices as upward pressure from shortages kick in.
"We're not seeing the full effects at the moment but there will be problems," he said.