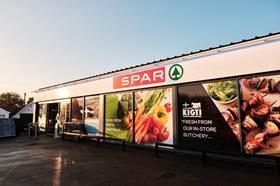 Spar enjoyed strong sales in the four weeks to 2 January 2022 with revenue up 2.3 per cent year on year and 13.2 per cent on two years ago, ahead of the symbol group market.
Total fresh sales grew by 7.1 per cent year on year, while soup sales rose by 26 per cent, with an increase of 31 per cent in ready-to-serve soups. Crisps and snacks grew by 19 per cent, propped by the everyday sharing sub-category, which grew by 53 per cent.
Soft drinks made the biggest contribution to overall grocery sales with the impulse sports and energy drinks sub-category driving growth.
Spar's own-label Christmas packaged lines, and in particular the savoury range and new party food lines, performed well. Meanwhile, the '2 for £2' offer was a popular price mechanism, Spar reported.
Spar UK MD Louise Hostesaid: "Our Christmas trading results are confirmation of how SPAR continues to lead the convenience store and symbol market.According to Nielsen Scan Track data, it shows that in the four weeks to 1January, the c-store market was up 2.1 per cent and symbols as a whole was down 2.5 per cent. Our year-on-year sales grew by 2.3 per cent.
"Our busiest days during the four-week period were Christmas Eve and New Year's Eve in cash sales and number of transactions showing how shoppers are motivated to use our stores.
She added: "We had a really strong Christmas week for Spar brand sales, which were up 5.4 per cent year on year and 26 year on year on year. Spar Brand continues to deliver growth. It is worth over £350m annually and is the 20th-biggest selling food brand in the UK.
"We have a great pipeline of development, covering a number of categories coming up in the next few months."
In May 2021 Spar announced the group would invest £125 million in its stores and improve its supply chain and IT capability to support retailers. The symbol group is more than halfway through that process.
Investment has been made in to store developments all over the UK. James Hall & Co invested in community store retailing, and theHenderson Group opened 28 new stores in Northern Ireland last year, with plans to spend over £50 million on infrastructure, marketing, new products and ranges this year.
AF Blakemore launched a purpose-built 165,000 sq ft distribution depot in Bedford, while Appleby Westward and CJ Lang have invested in new delivery fleets and new retailer recruitment support.
Spar also recently unveiled a new 'brand positioning' that celebrates the unique characteristics of Spar convenience stores.The campaign is called 'The Joy of Living Locally'.