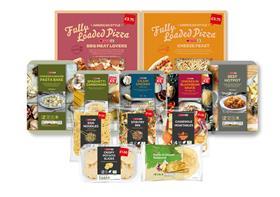 Spar has revamped its prepared vegetable range as part of a new-look portfolio of own-label evening meal solutions.
Launching from 10 September across the UK, the array of prepared vegetables is joined by a new range of Spar-brand pizzas, chilled breads and ready meals. For the first time, the convenience chain is offering a simple 'mix-and-match' evening meal deal at two for £5.
The group said that the Spar prepared vegetable range, which includes four new products, has been redesigned 'with a strong customer offer' that will 'attract more shoppers, particularly given that Spar has outperformed the market in all areas of component cooking.'
Myles Mersh, Spar UK assistant brand manager, said: "It is essential to attract meal-for-tonight shoppers. Our new mix-and-match evening meal deal for two will encourage shoppers to cross-purchase and will keep them coming back again. This will signal Spar as a genuine destination for the dinner mission and drive sales in store.
"Ninety-five per cent of the ready meal market is in own label and 71 per cent of consumers are already looking to ready meals for a midweek meal solution; we know that 79 per cent of those customers would be interested in a meal-deal mechanic. That's why we are confident our new mix-and-match scheme will be a great hit with Spar shoppers."
The evening meals launch will be supported with POS, social media, e-newsletters, Spar in-store radio, bulletins and in merchandising guides.